By Christopher Bell | The Playlist January 10, 2011 at 5:49AM
Alright, we've already done three Most Anticipated pieces, two Escapist and Popcorn fare pieces and here's more. Yes, it doesn't end, here's more for perhaps what you might call the more discerning reader.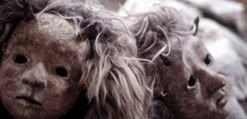 16. "Dau" - Russia - dir. Ilya Khrjanovsky
Synopsis: An epic biopic focusing on famous Soviet scientist Lev Landau, a Jewish man responsible for a number of breakthroughs in physics.
What You Need To Know: Yes, the plot outline sounds about as enticing as GRE prep course, but for Khrjanovsky, it's all about execution. His incredible 2005 film "4" showcased his firm grip on the bizarre, such as old women gumming up bread to make dolls, and an ability to entrance with deep symbolism and experimental narrative excursions. We're down, especially if it means another opening as striking as that one.
Release Date/Status: Missed Cannes 2010, likely going for the 2011 iteration
15. "Elena" - Russia - dir. Andrei Zvyaginstev
Synopsis: An aging woman must choose between her wealthy husband or her alcoholic son, whose ailment is sending his family into poverty.
What You Need To Know: It took a very long time for Russia to brew its next Tarkovsky, but better late than never. Palme d'or nominated Zvyaginstev combined the meditative quality of his mentor and mixed in brooding scores, dense religious undertones and Haneke-style thriller plots. Even though the director claims "Elena" will be different from his previous work, his keen visual eye should still be present; expect a compelling experience.
Release Date/Status: Cannes 2011 likely
14. "Post Tenebras Lux" - Mexico - dir. Carlos Reygadas
Synopsis: Described as an expressionist painting with little reason, this will be a semi-autobiographical tale about the director's feelings, memories, dreams, hopes, and fears.
What You Need To Know: If there's any director that should be set free of structural shackles, it would have to be Reygadas. His signature loose narratives always allowed him to really explore the small and the weird, so with even less of a logical form (and what sounds like a very personal outlet), "Post" should prove to be a true work of art. Maybe we'd be a bit more questioning (at its worst it could be agonizingly self-indulgent) if his past work weren't so strong, and particularly if he wasn't coming off incredible Cannes Jury prize winner "Silent Light."
Release Date/Status: Announced in Berlin's 2010 festival, shooting was supposed to have been underway at some point last year.