13. "The Assassin" - Taiwan - dir. Hou Hsiao-Hsien
Synopsis: Set in 8th century China, a female assassin looks to leave her profession behind, incurring the wrath of her mentor.
What You Need To Know: We had this on last year's list, but things have been quite slow for the Taiwanese director's foray into the fantasy realm. Shu Qui and Chang Chen reteam with this adaptation of Pei Xing's 9th Century fantasy short story, "Nie Yin Niang." Hsaio-Hsien's trademark wandering eye camera and long, single shot takes should hopefully turn the genre on its head, as should his promised intention to follow the work of Hayao Miyazaki as opposed to typical martial arts conventions. It's only been four years since his Binoche-lead remake "Flight of the Red Balloon," but it has certainly felt much longer.
Release Date/Status: Taiwan's Apple Daily has revealed that it has finally begun a "low-key" shoot in Nara, Japan.
12. "The Turin Horse" - Hungary - dir. Béla Tarr
Synopsis: The poor health of the old work horse of a rural farmer and his daughter compromises their jobs and livelihoods.
What You Need To Know: Cinephiles got a sinking feeling when Bela Tarr announced - at the premiere of his uneven "The Man From London," no less - that his next film would be his last. Things only got worse when production was halted in 2008 due to an uncharacteristically cold winter, and downright depressing when it didn't appear in the 2010 iteration of the Cannes festival. Now confirmed for a premiere in 2011, cinemagoers should expect the usual from Tarr (insanely well-composed long takes, oddly compelling minimalism) in this Nietzsche-inspired "Au Hasard Balthazar"-sounding picture.
Release Date/Status: Would Cannes miss an opportunity to showcase the final film from one of the world's greatest auteurs? Highly doubtful.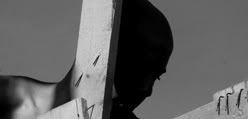 11. "Faust" - Russia - dir. Alexander Sokurov
Synopsis: A version of the classic German legend in which a man sells his soul to the devil.
What You Need To Know: Sokurov adds to the list of brilliant filmmakers who have take on the story of "Faust," setting himself up next to F.W. Murnau and Jan Svankmajer. The director also labels the movie as a closing point to what is now his "tetralogy," which includes "The Sun," "Moloch," and "Taurus." The prior three have been moody tales that were firmly grounded in realism - it will be interesting to see that approach with the more magical story by Goethe.
Release Date/Status: Supposed to have hit Russian theaters in 2010, this one might be eyeing a festival rollout first.